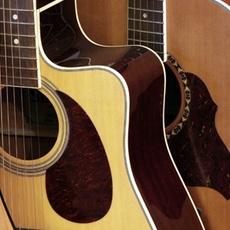 When you are considering the purchase of a new acoustic guitar, there are several things to keep in mind. We've listed several of these below.
Body Style
Like electric guitars, acoustic guitars are available in many shapes and sizes, from dreadnought, to jumbo, to small travel-size. The body style is not only an aesthetic choice, but it helps determine the sound projection and tonal emphasis of the instruments. If you play on the upper frets a lot, then a cutaway is preferable, though the sound quality of a non-cutaway may be superior.
Electronics
If you plan on playing live or recording, you should consider purchasing a guitar with built-in pickups and preamps. Some guitars have the preamps mounted in the side of the guitar itself, which is convenient but also is a non-reversable option. Others mount the preamp inside the guitar's soundhole, which isn't as convenient, but is also easy to change if needed. Some systems include a preamp, microphone, EQ, piezo pickups, and even built-in tuners.
Neck
The neck size is important depending upon the size of your hands. The width and thickness of the neck is commensurate with the size of the body and how many frets it has. Generally, an acoustic neck is listed as a 12-fret or 14-fret guitar, which refers to the number of frets that clear the body, not the overall number of frets.
Intonation
Unlike electric guitars, acoustic guitars have fixed intonation, which determines whether or not notes will play in tune as you move up the neck. Because the intonation is not adjustable, the build and construction quality of the instrument are crucial in determining whether the instrument has quality intonation.
Tonewood
To be blunt, the wood you choose for an acoustic guitar determines the sound. Different kinds of wood produce different kinds of sound. Most guitar makers believe that the guitar's top is the most important factor in shaping the guitar's sound. Spruce is common as are cedar and maple. If the wood is particularly rare or hard to find, the cost can increase substantially. Many guitar makers (Ovation, Rainsong) have experimented with composite materials with great success.
Tuning Machines
The types of tuning machines your guitar has are very important, since they will help keep your guitar in tune even after hard playing. Better tuners have a high gear ratio, since that will help tuner the guitar more precisely. Enclosed machine heads are generally preferred over open ones, since they resist rust and other corrosive elements.
Bridge and Fingerboard
While the materials used for the fingerboard and bridge do affect the sound, it's minimal compared to the wood used for the body and top of the guitar. However, the type of wood used for the fingerboard does affect the "feel" of the instrument and should be considered carefully, as should the type of frets used.