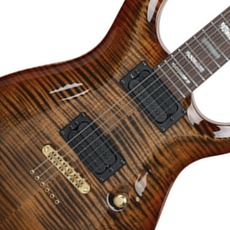 The Carvin CT6M is a double-cutaway McCarty-like guitar with great sustain and tones. The variety of customizable options make it a serious option for lead guitarists everywhere.
Carvin has a well-deserved reputation for making quality custom guitars at a reasonable price. The only downside to buying a Carvin is that you won't find them in your local music store, unless they're used. The positives definitely outweigh the negatives, however. You can order a custom-made guitar that is one of a kind, made to your specifications.
The Carvin CT6M continues Carvin's reputation for quality. The craftsmanship, finish, playability, and sound rival the world's best guitars in every way. If you want a beautiful and versatile guitar that you can personalize to your own tastes at a reasonable cost, the CT6M certainly fits the bill. Let's look at what makes this guitar so special.
For the lowest price on the Carvin CT6M, click here.
Specifications
Our review model features a carved flamed maple top, a mahogany body, and a set-in neck with 22 medium-jumbo stainless steel freets. The guitar also came adorned with an ebony fretboard and abalone block inlays. Dunlop Straplocks and Sperzel locking tuners were also included, and we ordered the guitar with Carvin's standard Classic C22 humbuckers. Though Floyd Rose and Wilkinson tremolos are available as options, we opted for the Tune-O-Matic M bridge with a string-through-body design. The color was a gorgeous triple-stained deep blue with a standard black back and sides.
Performance
We ordered the guitar with .009 strings and request a low action. The guitar was shipped from San Diego, CA to Dallas, TX via the M.I.B. (men in brown) and arrived not only in tune but playing great! The intonation and action were dead set and required only a small tweak of the truss rod. The action was low and silky, a common Carvin feature. The neck was one of the playable we've ever encountered. we can't think of a single thing that Carvin could improve regarding playability. The stainless steel frets were beautifully polished and smooth.
The guitar sounds wonderful. The 3-way pickup selector is reminiscent of a Les Paul and coupled with a push-pull tone pot coil tap, the sound possibilities are broad and useful. We could definitely coax some nice Strat-tones out of the coil tap. The stock C22 pickups gave us some great classic rock, blues, and country tones. The bridge pickup is hot and heavy and yielded some great rock and blues tones. The neck pickup lacks the depth one would want for jazz, but it's still very versatile.
We tried as hard as we could to find fault with the finish, but the triple-stained deep blue maple top was absolutely stunning. If this were a PRS (in addition to costing twice as much), it would easily be graded a 10 top. It's that nice.
The Carvin CT6M also came with a quality SKB-made case that provides a solid fit for the guitar.
Final Thoughts
The Carvin CT6M is a double-cutaway McCarty-like guitar with great sustain and tones. The variety of customizable options make it a serious option for lead guitarists everywhere. The total for this world-class custom made electric guitar was $1,550.49, quite a bargain when you consider that a PRS McCarty or Hamer Studio (other guitars in the CT6M's quality range) sell for twice that amount. Carvin definitely has a winner on their hands with the CT6M.
Name of Gear: Carvin CT6M
List Price: $3,599.00
Manufacturer Info: Carvin Music; carvin.com
Pros: Incredibly fast neck; beautiful finish; wide variety of tones; great value
Cons: None
Find your Carvin guitar for sale with our affiliate partner eBay below, or keep looking for discount electric guitars.