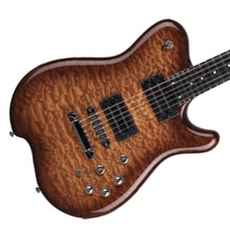 With its comfortable neck, wide array of sounds, and unique look, the Carvin Holdsworth Fatboy is a worthwhile purchase and investment.
Many years ago Carvin first introduced the Carvin Holdsworth series of guitars, named for and designed in conjunction with noted jazz rock legend Allan Holdsworth. Since their introduction, the series has been aclaimed for its versatile array of tones, unique looks, and supreme playability. The original Holdsworth guitar was a semi-hollow body instrument with a relatively thin body construction at only 1 3/4″ thick.
The newest member of the Holdsworth family is aptly named the "Fatboy," seeing as how it is substantially thicker than the original models at 2 3/8″ thick. The increased size coupled with the semi-hollow construction results in a guitar that is beautifuly resonant, possessing a thick, sonorous tone. While the Holdsworth series may not be for everyone, in our view it is a wonderfully versatile and playable instrument capable of a wide array of rock, fusion, and jazz tones.
Specifications
The construction makes the HF2 series truly unique. Inside the chambered body is a twin beam suspension that allows the body to resonate and vibrate. When I first received the HF2, the first thing I noticed was how alive the guitar felt in my arms, and that was before I even plugged it in! To be sure, the twin beam construction gives the guitar a resonance it would not have otherwise and also helps contribute to its versatility.
If you're familiar with Carvin guitars, you know that you have a wide array of options available in designing your own custom instrument, and the HF2 is no exception. While certain things are "standard" (e.g. an alder body), you can easily upgrade to suit your own expectations, which is what I did when I ordered the Holdsworth.
I opted for the flamed Koa top with Mahogany Neck and Body. This gives the Holdsworth an even deeper, richer sound than the stock Alder body. Though dot inlays are standard, I ordered it with no inlays on the neck, which offers a slick, clean look. The only other upgrades were black hardware and 24 stainless steel jumbo frets. Since the stock H22 pickups are the perfect choice for the Holdsworth guitar itself, those were left stock as were the standard Sperzel locking tuners and tune-o-matic bridge and stop tailpiece.
Performance
Aside from the resonant sustain, one of the first things you'll notice about the Holdsworth is the neck and fretboard. Unlike most Carvins, which come with a 14″ neck radius, the Holdsworth comes with a 20″ fretboard radius, contributing to its unique sound and feel. While it takes a little getting used to, the wide radius makes string bending and chording an absolute breeze, even if you don't sport the wingspan that Holdsworth himself does. Carvin is known for their attention to detail, and the HF2 was no exception. The Koa top was absolutely stunning and the fit, finish, and overall appearance was simply excellent. The neck? Typical Carvin speed!
Final Thoughts
I think the Holdsworth Fatboy could easily be used in a variety of musical contexts – rock, fusion, jazz, blues. Few guitars have such an original vibe, feel, and sound, but the Holdworth Fatboy fits the bill. Its comfortable neck, wide array of sounds, and unique look make it a worthwhile purchase and investment. Recently, Carvin added onboard synth electronics as an option, so the variety of sounds available is even more broad.
Name of Gear: Carvin Holdsworth HF2
List Price: $2,549
Manufacturer Info: Carvin Music; carvin.com
Pros: Dizzying number of options; playability; gorgeous Koa top; excellent customer service
Cons: None
Find your Carvin Holdsworth for sale on eBay today!