Epiphone G-400 SG Review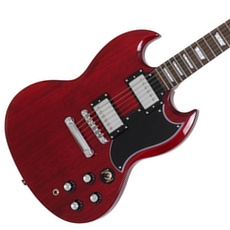 The Epiphone G-400 is a great guitar for people looking for classic rock, blues, and even hard rock tones, and who don't want to spend a ton of money on their purchase.
Though perhaps not as popular as its iconic Les Paul body shape, the Gibson SG is nevertheless a symbol of rock and roll power. If you don't believe me, go ask Angus Young. Everyone from Eric Clapton to Tony Iommi has embraced the Gibson SG for its cutting sound. Since not everyone can afford the $1,200 street price for a Gibson, however, their sister company Epiphone makes an affordable SG model, the G-400. The question then becomes, how well does the Epiphone SG stand up to the Gibson SG?
For the lowest price on the Epiphone G-400 SG, click here.
Specifications
The Epiphone G-400 features a mahogany body and set mahogany neck. It sports chrome hardware and two Alnico V humbuckers. The fretboard is rosewood, adorned with trapezoid inlays. A tune-o-matic bridge and stop tailpiece are standard.
Performance
The tuners held the guitar's tune well, though some perfectionists might long for the locking variety. We were able to set the action nice and low, and the guitar intonated well, though the bridge saddle corners were a tad too sharp for our taste.
The guitar plays well, suitable for pretty much any style of music. We did notice a few buzzes and rattles here and there, but we did set the action pretty low, and we didn't notice any of these sounds through an amplifier.
A good electric guitar has to sound good unplugged, and the G-400 doesn't disappoint in this area either. It's vibrant, resonant, and offers considerable sustain, surprising given the guitar's low weight. The positive characteristics are only enhanced by plugging the guitar into our test amp, a Dr. Z MAZ-18 NR. The G-400 pickups provided a well balanced if not aggressive sound.
All three pickup positions were usable in both clean and distorted settings. At extreme gain settings, we thought the guitar sounded a bit muddy, but that's partly due to the beautifully warm nature of the guitar. If you plan to play the G-400 in a metal or shred context, a change of pickups might be warranted.
The SG body shape of the G-400 is flawless, regarding the replication of the original. The cherry finish looked mighty fine on the G-400's mahogany body. The mother-of-pearl inlays are nicely done, though we did notice some small traces of glue residue near the edges. Likewise, we noticed some small traces of glue holding the neck joint in place, but these niggles aside, we found the construction quality to be very well done.
Final Thoughts
Ultimately, we think the Epiphone G-400 is a great guitar for people looking for classic rock, blues, and even hard rock tones, and who don't want to spend a ton of money on their purchase. It's a fun guitar with several usable tones and one we highly recommend.
Name of Gear: Epiphone G-400
List Price: $606.00
Manufacturer Info: The Epiphone Company; epiphone.com
Pros: Great value; solid playability; nice blues and classic rock sounds
Cons: Sharp bridge saddles; some minor glue residue
Find your Epiphone G-400 for sale with our affiliate partner eBay below, or continue looking for discount electric guitars.