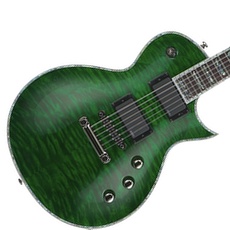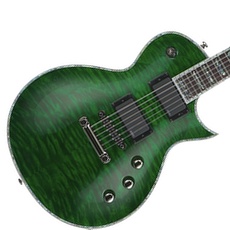 For less than $1,000, the ESP LTD Deluxe EC-1000 can hold its own with guitars costing three times as much.
There once was a time when the phrase "Made in Korea" made any prospective guitar-purchaser wince in pain. Of course, the phrase "Made in Japan" used to evoke the same feelings, but companies like Ibanez and Takamine have proven that great guitars can be made overseas. South Korean manufacturing has come a long way and is churning out some great guitars. The ESP LTD Deluxe EC-1000 is a fine example of quality Korean guitar manufacturing. Let's look at what makes this guitar such a bargain.
Specifications
The ESP is built with a mahogany body and mahogany set neck. The rosewood fretboard is adorned with abalone flags plus the model name at the 12th fret and outfitted with 24 extra-jumbo frets. To improve tuning, the guitar sports a 42mm Earvana Compensated Nut. The hardware includes a TonePros locking tune-o-matic bridge, genuine EMG 81/60 pickups (with Seymour Duncan JB/59 set on the amber sunburst model), ESP locking tuners, and black hardware (gold on black and vintage black, chrome on amber sunburst).
Performance
A guitar is only as good as its components, and the ESP LTD Deluxe EC-1000 contains the best hardware in the business. Clearly, ESP didn't skimp on the details. This guitar contains world-class components, but how does it play and sound?
Fortunately, the LTD Deluxe EC-1000 plays and sounds as good as its parts suggest. The action is as good as any guitar we've ever played. The action is smooth, low, and silky, and the 24 fret fingerboard is impeccable. This is a guitar made for serious metal riffage. Arpeggios flow with ease, and power chords thunder with authority. The EMG 81 pickups are versatile, but they excel at high-gain shred. Still, this guitar could be used in a variety of settings in many styles.
Thanks in no small part to Buzz Feiten, guitarists are aware more than ever of the value of compensated tuning systems. The folks at ESP have outfitted the EC-1000 with an Earvana nut, and the benefits are readily apparent. Chords stay in tune all the way up the neck. The EC-1000's intonation is spot on.
This guitar is no slouch in the looks department either. The mahogany body and flamed maple top make this guitar quite a looker. The rosewood fingerboard is adorned with quality abalone inlays. Try as we might, we couldn't find any flaws in the construction quality. Available in a variety of colors, the LTD Deluxe EC-1000 could satisfy a wide variety of tastes.
Final Thoughts
ESP has proven that a made in Korea guitar can compete with the best American-made instruments. For less than $1,000, the LTD Deluxe EC-1000 can hold its own with guitars costing three times as much.
Name of Gear: ESP LTD Deluxe EC-1000
List Price: $1,142.00
Manufacturer Info: The ESP Guitar Company; espguitars.com
Pros: World-class hardware; excellent playability; attractive finish
Cons: None
Find your ESP LTD Deluxe EC-1000 for sale on eBay today!