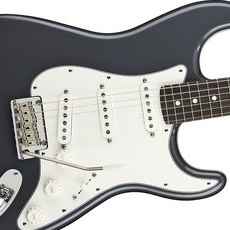 With street prices under $1,200, the Fender American Standard Stratocaster is an excellent choice for those looking for the fusion of old and new.
The Fender American Stratocaster is perhaps the foundation of the Fender line and represent the best ideas learned over 50 plus years of making their iconic instruments. The newest American-made instruments to bear the legendary name of Leo Fender build on his vision of mass-produced quality guitars that incorporate the best of the old and the new.
In recent years, Fender sought input from working musicians about how they could improve their already well-built instruments. This emphasis on continued innovation in light of the desires of real musicians is the spirit that Fender is built upon. Let's look at the details.
Specifications
The new Fender American Stratocaster features a solid alder body with urethane finish, a C-shaped maple neck with glossed front and satin back. Both maple and rosewood fretboards are available, both with 22 medium-jumbo frets. The electronics consist of three American single-coil pickups with Delta-tone "no-load" circuit. A Copper Infused Cast Strat Bridge Block is standard equipment for increased sustain, as are the new bent steel Fender saddles. The bridge is an American 2-point tremolo. Staggered machine heads are now stock as well.
Performance
Fortunately, the folks at Fender were wise enough to adopt an "if it ain't broke, don't fix it" mentality with their new American Standard Stratocaster. They retained the four-bolt neck, the Micro-Tilt, two-point vibrato, 9.5″ radius, 22 frets, and DeltaTone circuit that had become welcome features in their recent instruments. What changes did Fender make to this iconic guitar, then?
For starters, Fender equipped their new models with a thinner undercoat. Why? It's simple. It allows the body wood to "breathe" more and resonate, which allows for a more free tonal response. The back of the neck also has a smooth satin finish for ease of playing, whereas the front has a gloss finish, improving the looks substantially.
The bridge is also a refined design that contains elements from both Vintage and Modern Strat designs. The higher mass bridge design is a welcome addition, since many players often upgraded their bridges to improve their guitar tone. The new design also includes vintage-style bent steel saddles, which aid in capturing the classic vintage strat tone. From Buddy Holly to Jimi Hendrix, it's all here. While the stock Fender bridge doesn't provide the same level of tuning protection that a locking system does, for all but the most radical whammying the Fender system is surprisingly stable.
It also includes a world-class TSA lock-equipped SKB case that makes airport travel a breeze, and the case is very well-designed and could take a quite a punch, we wager.
Final Thoughts
With street prices under $1,200, the Fender American Standard Stratocaster is an excellent choice for those looking for the fusion of old and new. Its playability, sound, fit, and finish are everything we've come to expect from this great American guitar maker.
Name of Gear: Fender American Standard Stratocaster
List Price: $1,299.99
Manufacturer Info: Fender Musical Instruments; fender.com
Pros: Incredible value in an American-made guitar; improved finish and neck feel; excellent case
Cons: None
Find your Fender American Standard Stratocaster for sale on eBay today!