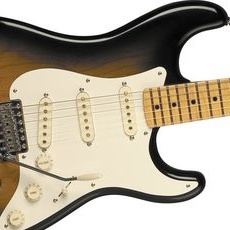 The Fender Eric Johnson Stratocaster is a world-class instrument that bears the mark of its world-class designer and is the union of vintage styling and contemporary innovation.
In addition to being a master guitarist, tone connoisseur Eric Johnson has a well-deserved reputation of being somewhat picky about his tone. This is a guy who can tell the difference between different batteries in his effects pedals, so it's safe to say he's a stickler for details. When we heard that Fender was releasing an Eric Johnson model Stratocaster, we knew that it would have to live up to Johnson's exacting standards.
Specifications
The Fender Eric Johnson Strat features a '57 style alder body and a one-piece, quartersawn plain maple neck outfitted with a 12" fretboard radius and American Series-style frets. Staggered vintage machine heads eliminate the need for a string tree. Electronically, the instrument sports three Custom Shop-modified single-coil pickups, a master volume, neck tone, and bridge tone controls. Finally, the Eric Johnson Stratocaster has a thin nitrocellulose lacquer finish.
Performance
Taking a classic vintage '57 Stratocaster as the starting point, Johnson and Fender's design team made several modifications to ensure that this guitar would be Eric's baby down to the last pickguard screw.
For starters, the EJ Stratocaster has an ultrathin, Custom Shop-quality nitrocellulose lacquer finish, which ultimately results in more resonance since you don't have a thick coat of paint "choking" the sound. The neck is also a thing of beauty, since Johnson decided on a one-piece, quartersawn maple neck. The 12″ radius results in great playability, and the thin-skinned glossy lacquer and vintage tint give the neck a beautiful appearance.
Johnson and the Fender team went through nineteen different pickup designs before they finally arrived at models that would satisfy Johnson's discerning ear. The work was well worth it, as these are some of the finest Stratocaster pickups we've ever heard. The wiring configuration mimic's Eric's favorite Strat modification, so the tone controls affect the neck and bridge pickup, not the usual neck/middle configuration.
The other "little" details ensure that you're getting a one-of-a-kind design. Not a fan of string trees, Johnson insisted that his signature guitar use staggered tuners instead, which increases tuning stability. The tremolo cavity is left bare as well, with no plate covering it and no paint inside the tremolo cavity, which Johnson insists has a positive effect on the tone.
In the end, what you have is an instrument that reflects the class and virtuosity of its designer. While it has a vintage vibe, the Eric Johnson Stratocaster is well-suited for a wide-variety of genres. The pickups have a chime, punch, and bounce that rank them, again, as some of the best Strat pickups we've ever heard. The playability is first rate as well, so don't hold back in trying some of your "Cliffs of Dover" licks.
Final Thoughts
Coupled with the vintage-style case, the Fender Eric Johnson Stratocaster is a world-class instrument that bears the mark of its world-class designer and is the union of vintage styling and contemporary innovation. You can't go wrong with an Eric Johnson Stratocaster, so find yours on eBay below today!
Name of Gear: Fender Eric Johnson Stratocaster
List Price: $2,599.99
Manufacturer Info: Fender Musical Instruments; fender.com
Pros: Versatile; excellent pickups; resonant; great playability
Cons: None
Find your Fender Eric Johnson Stratocaster for sale on eBay today!