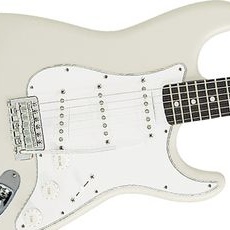 A Mexican-made Fender Standard Stratocaster represents an incredible bargain and are worthy instruments for beginners and professionals alike.
You won't find a more iconic guitar than the Fender Stratocaster. For over 50 years, this guitar has been beloved by players from every genre and style. Obviously, Fender itself has a lot to live up to when it puts the name "Stratocaster" on a guitar. Their "Standard" series of instruments are made in Fender's Ensenada, Mexico facility. Since a MIM Stratocaster costs less than half of its US counterpart, it's worth seeing where the savings comes into effect.
Specifications
The new Fender Made-in-Mexico Stratocaster features an alder body, a C-shaped maple neck with tinted satin urethane finish. A choice of either maple and rosewood fretboards is available, both with 21 medium-jumbo frets. The 25.5" scale-length instrument also includes a nut width of 1.65". The electronics consist of three Standard single-coil pickups with master volume, neck tone control, and middle tone control. The bridge is a vintage-style synchronized tremolo. Chrome hardware is standard, and a Fender gig bag is included.
Performance
Based on our years of experience with these instruments, the main difference between a USA Fender and MIM Fender is the quality of the hardware more than the quality of the instruments themselves. The tuners, pickups, bridges, and electronics tend to be a bit lower quality on the MIM models than the USA ones. However, the quality of the fretwork, finish, and overall construction of the MIM models is much higher than most people think.
We recently tested a 2009 Standard Stratocaster that was completely "off the rack," the build quality was excellent. We could discern no real difference in playability or quality of construction between the MIM and the USA models. That's not to say there aren't substantial differences. The quality of the tuners, pickups, and bridges on the Standard model is inferior to the USA model, but not in a way that renders the Standard series unworthy of your attention. The USA models also included a quality hardshell case whereas the MIM models include a gig bag.
Without question, the MIM Stratocaster is the "real" deal. The Stratocaster could produce everything from convincing Hendrix, Clapton, and Gilmour tones. It played and sounded like a guitar that should cost twice as much. Similarly, the playability was first rate. It's a different feel than the American Standard series, but not inferior.
In fact, some of our favorite guitars are MIM model guitars that we've "hot-rodded" to our own specs. For less than the price of a new USA Strat, you could buy a MIM model, replace the pickups, tuners, and bridge, and end up with your own personal "Super Strat." Why then, do people speak so disparingly of MIM Fender guitars?
Though we don't want to be too political in our review, we wonder if has to do more with people's stereotypes of what they think Mexican quality involves. These guitars aren't made by Mexican drug cartels. They're made in Fender's state-of-the-art Ensenada factory. The workers at this factory take great pride in their work, as they are treated very well by Fender in exchange for quality service. It's also a simple reality that labor costs in Mexico (or Japan or Korea) are less than what they are in the USA.
Final Thoughts
We think it's high time that people paid attention to reality more than their preconceived notions about what a Mexican-made guitar should sound like. A Mexican-made Stratocaster represents an incredible bargain and are worthy instruments for beginners and professionals alike.
Name of Gear: Fender Standard Stratocaster
List Price: $689.99
Manufacturer Info: Fender Musical Instruments; fender.com
Pros: Great value; solid construction; nice playability; classic Strat sounds
Cons: Gig bag a little cheap
Find your Fender Standard Stratocaster for sale on eBay today!