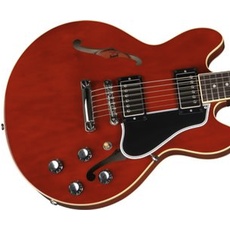 The Gibson ES-339 is a worthy addition to the Gibson family and a versatile guitar capable of covering everything from rock to jazz to blues.
The Gibson ES-339 is a semi-hollowbody guitar that is a cross between a Gibson Les Paul and a Gibson ES-335. While the ES-335 is beloved by people for its rich semi-hollow tones, its body size is comparable to an archtop guitar and is unwieldy for some. Enter the ES-339, which marries the Les Paul feel with the ES-335 sound. Is there a place for this hybrid guitar in the Gibson line? Let's look at the details and see.
Specifications
The ES-339 body and top both feature a maple/poplar/maple laminate while the neck is made of mahogany with a rosewood fretboard and 22 frets. The bridge is the tune-o-matic and stop tailpiece variety, and the guitar is also outfitted with Kluson tuners and '57 Classic Humbuckers in both the bridge and neck as well as chrome hardware. Some ES-339 special features include "Memphis Tone" electronics and a 30/60 neck profile.
Performance
Upon unpacking the ES-339, the first thing we noticed was how comfortable and playable this guitar was compared to its big brother, the ES-335. We've never played a semi-hollowbody that felt this good before! All of the sounds of a good Gibson semi-hollowbody are here, though. We played everything from Eric Clapton to Larry Carlton to B. B. King, and it all sounded great! Feedback was usable and easy to control when we cranked it up.
We simply couldn't get a bad sound out of the ES-339. From rock and blues to jazz and country, this is one of the most versatile and well-playing guitars we've reviewed in a while. Likewise, the 30/60 neck profile was extremely comfortable and made the ES-339 a real joy to play. The 30/60 neck profile features a 60's style neck with an extra .030″ front to back, which helps preserve the classic semi-hollowbody tone while also providing solid playability.
We especially liked the "Memphis Tone" feature. Call it what you will, it's no marketing ploy. We really enjoyed getting different settings out of the volume and tone control settings. The practical value of the "Memphis Tone" electronics is simple. For starters, when you turn the volume down, the instrument's highs stay consistent throughout the taper. Normally, you lose high end when you decrease a guitar's volume, so this is a welcome addition. The volume decreases logarithmically, so the volume decrease is very smooth and even, corresponding with the actual volume knob numbers! We thought we might have to swap out the Classic Humbuckers for some "real PAF" pickups, but we had no need to do so.
Final Thoughts
We can't think of anything to improve on this guitar. The fit and finish were perfect from the factory, and is a testimony to the quality of the Gibson Custom Shop. The Gibson ES-339 is a worthy addition to the Gibson family and a versatile guitar capable of covering everything from rock to jazz to blues.
Name of Gear: Gibson ES-339
List Price: $4,591.00
Manufacturer Info: Gibson Musical Instruments; gibson.com
Pros: Excellent finish; very versatile; solid playability
Cons: None
Find your Gibson ES-339 for sale on eBay today!