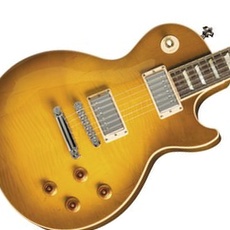 The newest incarnation of the Gibson Les Paul Standard has a lot to offer and definitely has the spirit of a classic Les Paul in its sound, feel, looks, and playability.
Along with the Fender Stratocaster, the Gibson Les Paul is synonymous with rock & roll and blues guitar. Though the shape and thick, chunky sound have remained constant throughout the years, the details, from pickup selection to neck design, have changed to reflect Gibson's continuing desire to innovate. In 2008, Gibson introduced a Gibson Les Paul Standard that contained more than its fair share of changes, some welcome and some not.
Specifications
The Les Paul Standard Plus features a chambered mahogany body and a figured maple top. This 24-3/4" scale guitar has a set-in mahogany neck with rosewood fingerboard and traditional Gibson trapezoid inlays. TonePros locking bridge and tailpiece are standard, as are the Burstbucker Pro pickups. Other hardware appointments include a locking Neutrick jack and locking Grover tuners. A quality Gibson hardshell case is included as well. The guitar also receives a Plek guitar setup.
Performance
If you're familiar with Les Pauls, then the first thing you'll notice about the revised model is its weight, which is certainly attributable to the chambered body. We didn't notice any deficiency in tone due to the chambered body, and played acoustically, the Les Paul Standard had a balanced, deep tone. If you've ever gigged with a Les Paul for any extended period of time, you'll appreciate the lighter weight.
Since many of us replace tune-o-matic style bridges with TonePros, the upgraded bridge and tailpiece are a welcome addition, as is the Plek setup, which resulted in a solid playing and sounding guitar right out of the box. Granted, a minor truss rod adjustment was needed, but that's usually the case when you receive a guitar via UPS. Out of the box, the guitar was pretty much gig-ready, a testimony to both the Plek'd setup as well as the TonePros hardware.
The finish on the new Standard is as great as ever. We reviewed a Heritage Cherry Sunburst finish that had just a gorgeous flame. We found no flaws in either finish or fit, as the fret dressing and setup was as good as we've ever seen from a production guitar. Gibson also chose to omit the pickguard from this model, though you could easily install one if you miss it.
For the revised Standard, Gibson chose to incorporate an asymmetrical neck profile, and we applaud their decision. The whole point is to have a thicker bass side with a slightly thinner treble side, and the playability is greatly improved with this profile design. Think of it as the best of a 50's and 60's profile in one neck design. The fretwork and factory setup were the best we'd ever seen from an out-of-the-box Gibson.
Since the Gibson/Marshall combo is so time-honored, we decided to test our new Gibson Les Paul Standard with a JCM 800 half-stack. While it's definitely hip, the chambered body does add something of a 335-type sound to the mix. It may or may not be your cup o' tea. The Burstbucker pickups seemed to be a pretty good fit, since they are aggressive and dark by nature. There are definitely some classic Les Paul tones to be found here, though the chambered body/Burstbucker combination has its own unique flavor. To each his own. We liked them.
For all the positive changes in the new Les Paul Standards, there are a few modifications that we just didn't get. For starters, we've never been a fan of locking input jacks. Granted, Neutrik jacks are as high quality as you can get, but that's not the point. It's more of a nuisance than a help, and we wish they hadn't assumed all guitarists would want such a "convenience."
Same goes for the PCB mounted volume and tone pots. In fact, all pots, the pickups, the selector switch, and the jack are all connected to a main PCB board via pluggable connectors. While it's cool in a way, it could also greatly impede changing a pot or swapping pickups. We were left scratching our heads on this one.
Final Thoughts
Aside from these minor concerns, we think the newest incarnation of the Gibson Les Paul Standard has a lot to offer and definitely has the spirit of a classic Les Paul in its sound, feel, looks, and playability. If the revisions are not to your liking, Gibson now offers the "Les Paul Traditional" that is more, well, traditional. There's something for everyone in Gibson's Les Paul lineup.
Name of Gear: Gibson Les Paul Standard Plus
List Price: $3,899.00
Manufacturer Info: Gibson Musical Instruments; gibson.com
Pros: Classic Gibson feel and sound; excellent factory setup
Cons: PCB mounted volume and tone pots
Find your Gibson Les Paul Standard Plus for sale on eBay today!