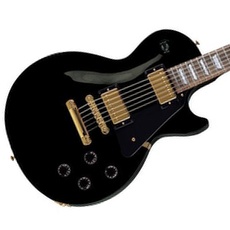 It's easy to see why the Les Paul Studio is one of Gibson's most popular models, given its versatile sound palette and solid playability.
In 1983, Gibson introduced what was to soon become one of its most popular guitars, the Les Paul Studio. As its name indicates, the guitar was initially aimed at studio guitarists who wanted the Les Paul trademark sound without all the aesthetic bells and whistles. Eschewing such adornments as body and neck binding, the Gibson Les Paul Studio contains most elements that contribute to the Les Paul tone.
Specifications
The Les Paul Studio features a carved maple top, mahogany back, mahogany neck (with a rounded '59 Rounded Les Paul profile), and a rosewood fingerboard (ebony fretboard is standard on the Alpine White finish). As you'd expect, a tune-o-matic bridge and stopbar are standard. Depending on the finish, the guitar comes with chrome or gold hardware. Regarding the electronics, the pickups are 490R and 498T Alnico 2 magnet humbuckers. Two volume knobs and two tone controls are standard, as is a 3-way pickup selector switch.
Performance
For starters, the Les Paul Studio contains a neck that is reminiscent of a classic 50's Les Paul, which helps contribute to the guitar's chunky, thick tone. The 490T and 490R pickups also exude the Les Paul sound in both lead and rhythm work.
Despite its name, the Les Paul Studio has gained an excellent reputation as a live guitar workhorse, due in no small part to its decreased weight. The chambered mahogany body make the Les Paul Studio an excellent guitar for gigging because it has the Les Paul sound without the Les Paul weight.
Our Les Paul Studio came with a black finish and gold hardware, and we were very impressed with our findings. The fit and finish were simply first rate. The fretwork was immaculate and we couldn't find a single flaw with the finish. Ours came with a beautiful rosewood fretboard with instantly recognizable trapezoid inlays, a Les Paul trademark. It played and sounded like Les Paul models costing hundreds if not thousands more. It also included a quality Gibson case.
Final Thoughts
The two biggest differences between the Studio and a "regular" Les Paul is that the former lacks the body and neck binding and has a lighter, chambered body. The binding is purely an aesthetic choice and the lighter weight is actually a welcome feature. It's easy to see why the Les Paul Studio is one of Gibson's most popular models, given its versatile sound palette and solid playability. We give it our heartfelt recommendation.
Name of Gear: Gibson Les Paul Studio
List Price: $2,169.00
Manufacturer Info: Gibson Musical Instruments; gibson.com
Pros: Solid playability; versatile tones; incredible value
Cons: None
Find your Gibson Les Paul Studio for sale on eBay today!