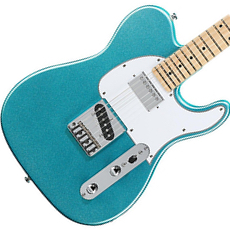 The Fender Stratocaster & Telecaster are two of the most copied instruments in the world for good reason. Leo Fender was well ahead of his time regarding both the design and the nomenclature for these iconic instruments. If you didn't know that G&L stood for George (Fullerton) and Leo (Fender). Yes. That Fender.
Originally, G&L instruments were a cut above the instruments that Fender was producing because, to be frank, the late 70s/early 80s weren't exactly Fender's golden era. Fast forward to our era, and Fender is rightly known for making quality instruments. Of course, so is G&L. One of the most popular G&L models is the ASAT (their Tele-style model), and a perennial favorite is the Blueboy model, which sports a neck humbucker, making it very popular with the blues and jazz crowd. G&L quality does come at a price, though. Enter the Tribute series. Originally made in Korea, production of the Tribute series has since moved to Indonesia. The guitars are incredibly affordable, but what about the quality?
Specifications
The Tribute ASAT Classic Bluesboy is a bolt-on Tele style guitar with a 25 1/2″ scale. The neck pickup is a G&L AS4255C humbucker with a G&L MFD single coil in the bridge. The body wood depends upon the finish. Translucent finishes have Swamp Ash and solid finishes sport Basswood. The neck is a hard-rock maple with rosewood fingerboard. The neck is a comfortable medium "C" shape with a 9″ radius and 22 medium jumbo nickle frets. A Tele-style 3-position pickup switch with master volume and tone are all standard.
Performance
I tested the ASAT Classic Bluesboy through a Boss Katana 100 (an incredible amplifier in its own right). Immediately, I was most impressed with feel of the neck. For a sub $500 guitar, the neck feels substantive and the fretwork is very nicely done. I couldn't find a substandard fret throughout the entire fretboard. That said, upon first opening the guitar it was in need of a professional setup pretty badly, but that's not uncommon for any new guitar, much less a "budget" model. But once I had the guitar set up and equipped with new strings (D'Addario NYXL .010 – .046 in this case), the guitar played beautifully. It definitely does not feel like a sub $500 guitar.
The pickups were very balanced, and I was able to get a wide range of tones from the neck humbucker and the bridge single coil. Personally, a Tele-style guitar with the neck humbucker and bridge single is one of my favorite combinations because of its versatility, and this Tribute ASAT Classic Bluesboy doesn't disappoint in that regard. This is a guitar that could easily be used for jazz, blues, country, and rock, all at a fair price.
Final Thoughts
As the owner of both USA and Tribute model G&L guitars, I can honestly say that the Tribute models hold their own really well. Sure, the USA models are clearly a step above, but for a guitar that you can get for less than $500, the Tribute ASAT Classic Bluesboy is a great guitar. I use mine all the time for practices and gigs without hesitation.
Name of Gear: G&L Limited Edition Tribute ASAT Classic Bluesboy
List Price: $449.00
Manufacturer Info: glguitars.com
Pros: Incredible value; wide range of tones; great choice for blues and classic rock
Cons: Factory setup is weak
Find your G&L Limited Edition Tribute ASAT Classic Bluesboy for sale on eBay today!