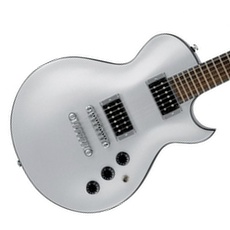 We definitely recommend the Ibanez ART100 for those looking for Les Paul bite without the Les Paul cost.
In the 1970's, Ibanez got into serious legal trouble with their copy of a Gibson Les Paul. Probably the biggest reason Gibson got upset with Ibanez is that by many accounts the Ibanez copy was, at the time, a far better instrument than the real thing! With the ART100, Ibanez proves that they can still make a killer single cutaway guitar at a great price. Let's take a look at the details.
Specifications
The ART100 has a Mahogany body and neck with a bound rosewood fingerboard. Unlike most Ibanez guitars, the ART100 has a set neck with medium frets. The bridge is a tune-o-matic style Gilbraltar III with set tailpiece. The pickups are Ibanez's own Artcore 1-S in the neck and Artcore 2-S in the bridge.
Performance
With a street price of around $300, there's just not much to love about the Ibanez ART100. Like most Ibanez guitars, the action is as playable as you want. The feel is definitely different from the Wizard-neck equipped guitars, but not in an inferior way. Just different.
Aesthetically, the ART100 is a winner. The fingerboard is absent of inlays save a custom inlay on the 12th fret, which looks pretty classy. Available in a variety of finishes, we opted for the Transparent Cherry and could find no significant finish flaws.
The Artcore pickups specialize in high gain tones, though we weren't as impressed with the clean sounds. Still, at this price, there's not much to complain about it. You could easily swap in replacement pickups if you so choose, though the stock pickups perform admirably in most situations.
Final Thoughts
The only downside is that it doesn't ship with a case. We would recommend the SKB Les Paul style case for the ART100, which is a world-class case for a great guitar. We definitely recommend the Ibanez ART100 for those looking for Les Paul bite without the Les Paul cost. It's a fine guitar. Highly recommended!
Name of Gear: Ibanez ART100
List Price: $399.99
Manufacturer Info: Ibanez Guitars, ibanez.com
Pros: Great value; solid playability
Cons: No Case
Find your Ibanez ART100 for sale on eBay today!