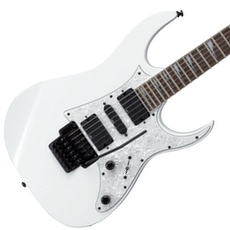 The build quality, sound, and playability of the Ibanez RG350DX make it a "must buy" shredder axe.
Ibanez was one of the first non-USA companies to demonstrate that first-rate guitar manufacturing can occur outside of North America. From John Scofield to Steve Vai, Ibanez devotees are everywhere. Ibanez has a well-earned reputation for producing good sounding, solid playing instruments at an affordable price. While their top-end models are still produced in Japan, Ibanez in recent years has outsourced some of the lower-end models to South Korea, and the results have been excellent on the whole. One of their most popular models is the shred-friendly RG350DX. Let's take a look at what makes this guitar so popular.
Specifications
The Ibanez RG350DX features a basswood body outfitted with a 3 piece maple Wizard II neck with bound rosewood fingerboard. Shark inlays are standard, as are jumbo frets. The bridge is an Ibanez Edge III, and the pickups are an INF3 neck humbucker, INFS2 middle single-coil, and INF4 bridge humbucker. It is outfitted with black hardware.
Performance
When you pick up an RG350DX, the first thing you'll notice is how fast the neck is. Along with Carvin, Ibanez makes some of the best, fastest necks you'll ever play. The thin, 3-piece Wizard II neck allows for effortless shredding. Sweep arpeggios and fast runs flow with ease. Outfitted with 24 jumbo frets, you'll be exploring vast sonic territory at superhuman speeds in no time.
Sonically, the RG350DX covers a lot of territory for a shred-based guitar. The Infinity 4 bridge humbucker, Infinity 3 neck humbucker, and Infinity Single3 provide a wide variety of tones, though as you might expect, they excel at high gain carnage.
The RG350DX includes the tried-and-true Edge III tremolo that allows out-of-this-world whammy action that returns to perfect tuning every time. If you're not used to adjusting a Floyd-licensed tremolo, it can definitely be a hassle, especially if you're playing around with alternate tunings, but for most "normal" playing, you shouldn't encounter any issues.
The Ibanez RG350DX comes standard with a white finish on its basswood body that showed nary a deficiency as far as we could tell. The sharktooth inlays and black hardware complete the aesthetic picture and definitely let anyone know that this is a guitar that means business.
Final Thoughts
We hesitate to call the RG350DX a "budget" guitar because we don't want anyone to question its quality. Ibanez would be justified in charging twice what they do for this guitar. The build quality, sound, and playability of the Ibanez RG350DX make it a "must buy" shredder axe. Buy one before they decide to do just that!
Name of Gear: Ibanez RG350DX
List Price: $533.32
Manufacturer Info: Ibanez Guitars; ibanez.com
Pros: Excellent playability; great rock tones; good value
Cons: None
Find your Ibanez RG350DX for sale on eBay today!