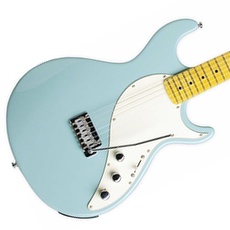 If you're looking for an inexpensive, versatile guitar that can cover a lot of sonic territory, you can't beat a Line 6 Varian 600.
In the late 90's, Line 6 made quite a stir in the guitar-gear world with the introduction of their POD guitar amp modeling device. While Line 6 didn't invent amp modeling, it's safe to say that they made it useful and affordable for most guitar players. Their recording gear and guitar amps have been used by a wide variety of amateurs and pros alike.
Specifications
The Variax 600 has a basswood body, one-piece maple neck and fretboard, and a 25.5″ scale with 9.5″ fingerboard radius outfitted with 22 medium profile frets. The onboard modeling technology models dozens of classic acoustic and electric guitars. The tremolo bridge is custom made by L. R. Baggs. It includes a high quality Line 6 gig bag and footswitch.
Performance
When you first plug in a Variax, if you're like most people, you will immediately want to experiment with the variety of guitar models available, and there's certainly no shortage of instruments available. You've got dozens of guitar models to experiment with in the Variax 600.
A variety of guitars from Fender, Gibson, Gretsch, Rickenbacker, Martin, and Guild are here, both acoustic and electric. Want to switch from a 1960 Telecaster to a 1959 Stratocaster? No problem. How about from a 1958 Gibson Les Paul Standard to a 1966 Rickenbacker 12 string? Again, it's a breeze with the Variax 600. Of course, the first concern that most people have about the Variax is the sound. Is it possible for one guitar to pull off such a feat? Can one guitar really sound like the best electric and acoustic guitars for the last 50 years? The answer is both yes and no.
It's best to think of the Variax as a tool in your recording and gigging toolbox rather than as the ultimate replacement for every vintage guitar ever made. The Variax 600 does an excellent job in capturing the basic flavor the the guitars it emulates. The Les Paul chunkiness is there as is the Telecaster twang. The semi-hollow models certainly capture the essence of a big jazz guitar box, and the 12-string models will make people turn their heads in amazement.
Not unlike Line 6 effects and amps, the Variax does an incredible job in emulating a wide variety of sounds. Does it sound exactly like a 1959 Gibson Les Paul? No, of course not, but it also doesn't cost $250,000 either.
So, the sounds definitely kick some serious tail, but what about the guitar itself? It's safe to say that when you buy a Variax, you're paying mostly for the electronics, but we were pleasantly surprised when we played our Variax, since it is actually a Chinese made guitar, and the Chinese aren't exactly known for producing the world's best guitars. However, we were amazed at how well put together this guitar really is. The fit and finish on the whole are very good, and the fretwork is immaculate.
The guitar plays well and certainly doesn't feel "cheap." It also includes a quality Line 6 gigbag, though a hardshell case would be welcome. That's not to say that it didn't need some improvements. It came with a cheap plastic nut and tuning machines from hell. Fortunately, we replaced the tuners with Planet Waves locking tuners, which are a direct replacement, no drilling required. That improved the tuning immensely. We also had a guitar tech replace the cheap nut with a Graphtech graphite nut and the cheap string tree with a Graphtech string tree.
Final Thoughts
The Line 6 Variax's versatility is unparalleled and it has definitely earned a permanent spot in our collection. If you're looking for an inexpensive, versatile guitar that can cover a lot of sonic territory, you can't beat a Line 6 Variax.
Name of Gear: Line 6 Variax 600
List Price: $1,119.00
Manufacturer Info: Line 6, Inc.; line6.com
Pros: Wide array of tones; solid playability; good value
Cons: Cheap tuners and string trees; plastic nut
Find your Line 6 Variax 600 for sale on eBay today!