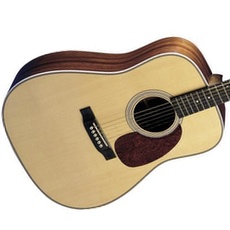 The Martin HD-28 continues the Martin tradition with pride, and we would recommend the HD-28 to anyne without reservation.
In their company logo, the Martin guitar company makes it clear that they aren't the new kid in the playground by reminding us that they've been around since 1833. In a business where builders come and go, that's no small feat. Everyone from Johnny Cash to Eric Clapton has sported a Martin guitar at one time or another. With so many models still in production, it's difficult to pick a quintessential Martin, but we think the HD-28 will suffice nicely.
Specifications
The HD-28 is Martin's recreation of their heralded Herringbone style 28-model guitars and outfitted with a Sitka spruce top, solid rosewood back and sides, mahogany neck and ebony fingerboard. The top trim, as its name suggests, is Herringbone, and the guitar also contains Martin's scalloped X-bracing, which allows the top to vibrate more freely. It also includes a quality Martin hardshell case.
Performance
The first thing we noticed was just how LOUD the HD-28 is. It's no wonder that these guitars are favored by blues masters and bluegrass pickers alike. The sound is downright thunderous, with deep lows, pronounced mids, and beautiful highs. Chords sound full and rich. For acoustic rhythm work, the Martin HD-28 is one of the finest guitars we've ever heard.
For single-note lines, the sound is just as full, though we have to admit that the action was a bit higher than we like, but that's often the case with acoustic guitars right out of the box. After we sanded the saddle down a bit, we were able to move around the neck more freely and didn't notice any compromise with the guitar's beautiful tone.
Our review guitar didn't come with any standard electronics, so we quickly attached an L. R. Baggs M1 soundhole pickup and were very pleased with how well the HD-28 responds to amplification. Purists will likely insist on micing the guitar, but we would have no qualms in installing a pickup like a Baggs M1 or iBeam.
We're so used to playing cutaway acoustic guitars that we forgot just how full and rich a non-cutaway dreadnought can sound. For fingerpicking and flatpicking rhythm work, this guitar shines. It's not our first choice for single-note lines, but that's more of a preference than a necessity.
Final Thoughts
The Martin HD-28 continues the Martin tradition with pride, and we would recommend the HD-28 to anyone without reservation. It's not cheap, but quality this good is worth every penny. And this guitar will only get better with age.
Name of Gear: Martin HD-28
List Price: $3,449.00
Manufacturer Info: C. F. Martin & Co., Inc; martinguitar.com
Pros: Excellent build quality; deep, rich sound
Cons: None
Find your Martin HD-28 for sale on eBay today!