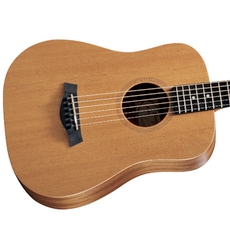 Whether you're fingerpicking, strumming, or playing lead lines, the Taylor Baby is a very enjoyable instrument.
Taylor Guitars has a well-earned reputation for quality in sound, playability, and construction. Unfortunately, this reputation generally comes at a price. Generally speaking, Taylor guitars carry a premium price tag. However, that's not to say that there aren't affordable models in the Taylor lineup. One of their most popular models is the Baby Taylor Dreadnought Acoustic, a beloved 3/4 scale travel instrument that brings Taylor quality to a low cost, small scale guitar. What makes the Baby Taylor so popular? Let's find out.
Specifications
The $299 Baby Taylor sports a solid sitka spruce top with a sapele arched back and sites. Both the fretboard and bridge are made of ebony. The guitar is a smaller 22-3/4″ scale and a 1-11/16″ nut width. A laser-etched rosette, enclosed die-cast tuners, and Taylor gig bag complete the package.
Performance
For what it's designed to be, the Taylor Baby guitar excels. This isn't a gigging or even serious practice guitar. It's intended purpose is generally one of three possibilities – a travel instrument, a small guitar for smaller hands (i.e. kids), or a guitar you can use while watching TV, hanging around the house, etc. Since it's a 3/4 size, you shouldn't expect the range or projection you get with a full-sized instrument. But for playing around the house or in a hotel room, it sounds just fine.
The action was excellent up and down the neck, not a surprise since anything less would be pretty discouraging for a student or travel guitar. The tuners work fine, though we did have some minor tuning issues. Because of its size, proper truss rod adjustment is crucial, since poor adjustment can have immediate effect on the guitar' intonation. Again, this isn't an instrument you'll probably gig or record with, so any intonation issues are not a crucial matter. Still, it's worth noting that the 3/4 size can lead to some minor tuning issues.
Final Thoughts
This minor issue aside, the Baby Taylor still is worthy of the name on the headstock. Perhaps the best compliment I can give the Baby Taylor is that it's simply a fun instrument to play. Whether you're fingerpicking, strumming, or playing lead lines, the Taylor is a very enjoyable instrument. At only $299, it's hard to go wrong.
Name of Gear: Taylor Baby Taylor Dreadnaught Acoustic Guitar
List Price: $398.0
Manufacturer Info: Taylor Guitars; taylorguitars.com
Pros: Great sound for a small guitar; excellent playability and portability
Cons: None
Find your Taylor Baby Taylor for sale on eBay today!