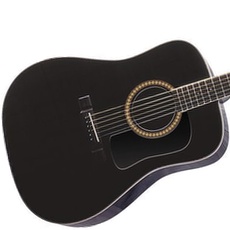 The Washburn D10S's solid sound, great playability, and affordable price make it a "no-brainer" purchase.
Washburn claims that their D10 series is the best-selling acoustic guitar in the world. Given all the options that guitar players have these days, that's quite a claim. After playing one, it's easy to see why that could easily be true.
Specifications
The D10S features a solid spruce top with mahogany sides and back. The neck is mahogany with a rosewood fingerboard and bridge. Our review model featured the gloss black finish with a black pickguard. The tuners are Grover-style encased in chrome, and the guitar features a multi-lam top binding, neck binding, and diamond inlaid marquetry rosette. It also includes a GC110 hardshell case. New models also include the Buzz Feiten Tuning System.
Performance
We review numerous high-end guitars from numerous manufacturers, so we have a good deal of experience with a broad range of instruments. Honestly, on a day-to-day basis, we play the Washburn D10S more than any of them. That's because we leave the D10S lying around and use it to practice scale patterns, new chord voicings, warm-up techniques, etc. We primarily use it as what some people would call a "beater guitar." That is, we don't keep it in the case, we don't worry if the dogs lick it, or if somebody's kids bang on it. At least, we viewed it originally as a beater guitar.
Somewhere along the way, though, this "beater" guitar became one of our personal favorites, probably because we played ours so much. Let's be perfectly honest, though. The D10S doesn't have the same rich, full sound as the higher-end Takamines or Taylors we review. However, this $300 guitar does sound pretty darn incredible, especially for the price.
The best thing about the D10S is its playability. It really does play like a $2,000 guitar. It's also tough as nails and is resistant to temperature change and humidity far better than other high-end guitars. That's often the case with "cheap" guitars, though.
The D10S is also one of only two guitars we've reviewed that was made in China. We were hesitant to embrace a Chinese-made instrument only because we know that the reputation for such instruments is a bit spotty. We can honestly say, though, that the Washburn D10S has gone a long way toward opening our minds to Chinese guitar manufacturing.
Perhaps the number one question we get from students and their parents is "Can you recommend a good beginner guitar?" If they're interested in acoustic guitars, we easily recommend the Washburn D10S. We've had probably a dozen students buy this guitar, and we haven't had anyone who didn't think they made the best choice.
Final Thoughts
The Washburn D10S is one of those rare guitars than can appeal to beginners and advanced players alike. Its solid sound, great playability, and affordable price make it a "no-brainer" purchase.
Name of Gear: Washburn D10S
List Price: $533.90
Manufacturer Info: US Music Corp.; washburn.com
Pros: Great value; excellent playability; durable construction
Cons: None
Find your Washburn D10S for sale on eBay today!