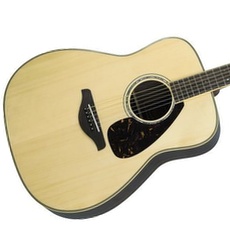 The Yamaha FG730S is a guitar that we would easily recommend to anyone seeking a quality, budget acoustic guitar.
Yamaha has been making acoustic guitars for over 60 years, so it stands to reason that they know how to balance price, performance, and customer satisfaction. Artists from Carlos Santana to John Scofield have played Yamaha guitars at some point, a testimony to their quality and service. Yamaha acoustic guitars have also been favored by beginners and those looking to buy an inexpensive but quality guitar. The FG730 is one such model and is the subject of our current review.
Specifications
The FG730S has a solid Sitka spruce top with rosewood back and sides. Rosewood is also used for the fingerboard and bridge, and the guitar has a white/black body and neck binding. A faux-tortoise pickguard completes the package. We opted for the Natural finish, though the guitar is also available in Tobacco Brown Sunburst and Vintage Cherry Burst.
Performance
The Yamaha FG730S is a Chinese-made guitar, and it goes a long way towards helping look at guitars made in that country in a whole new way. Since all production guitars are made using CNC machines anyway, what ultimately matters is the quality of the materials and the level of quality-control. Suffice it to say, the Yamaha FG730S reflects both.
We were amazed at the breadth of sounds that came from this $300 acoustic. Sure, it lacks the depth of a $2,500 Taylor or Breedlove, but remember once again, it's a $300 guitar (less if bought used, obviously). It doesn't come with any electronics, but when we recorded it using a variety of microphones from Shure, Blue, and MXL, the results were pretty darn good. It has just a solid, full sound that we found very pleasing. The action was very good as well. It was probably a bit too low, which caused some string buzzing here and there, but most new guitars could benefit from a set-up, and after we had this one gone over by a repair tech, it played and sounded even better.
If we have any complaints, it's that the saddle, nut, and strap pin have a pretty cheap feel, but hey, what do you want for a $300 guitar? You could replace the above fairly inexpensively and end up with a guitar that would rival models costing five times as much.
Final Thoughts
Even in its stock form, the Yamaha FG730S is a guitar that we would easily recommend to anyone seeking a quality, budget acoustic guitar.
Name of Gear: Yamaha FG730S
List Price: $489.99
Manufacturer Info: Yamaha Corporation; yamaha.com
Pros: Excellent value; full, rich sound
Cons: Cheap nut and saddle
Find your Yamaha FG730S for sale on eBay today!