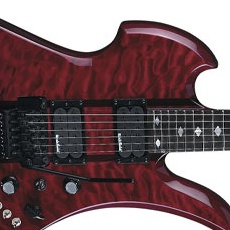 Overall, the B. C. Rich Exotic Classic Mockingbird is a first-rate hard rock/metal electric guitar with killer tones and ease of play, especially given its low price.
Since the 1950's, most guitar shapes are mere variations of the time-honored Stratocaster and Les Paul designs. It's very rare that a unique guitar shape makes a significant impact on guitar players who, for all their differences, are a conservative lot when it comes to guitar body shapes.
One such maker who did make a pronounced impact on the industry with his unique body styles is the late Bernardo Chavez Rico, the founder of B. C. Rich guitars and creator of such memorable guitars as the Warlock and Bich. One of his earliest and most popular models is the B. C. Rich Mockingbird. Currently, the Mockingbird body shape comes in a variety of versions, including the Masterpiece Mockingbird, the Mockingbird Special, the Mockingbird Special X, the Exotic Classic Mockingbird, the Mockingbird ST, and the Calibre Classic Mockingbird. This review focuses upon the Exotic Classic.
Specifications
While the original B. C. Rich Mockingbird was hand-made in Rico's custom shop, most current models are Korean made, which helps explain their extreme affordability. It includes the well-known neck-through construction, in which the neck runs through the entire body of the guitar, contributing to its sustain and tone. It features a mahogany body with maple neck and a 24-fret ebony fretboard. It comes outfitted with two Rockfield humbucking pickups, with two volume controls, master tone, and three-way switch. If you're looking for even more options, you can give the Mockingbird ST a try, which includes an original Floyd Rose Tremolo.
Performance
Overall, the Exotic Classic Mockingbird is worthy of the name on the headstock. The ebony fretboard is sleek and fast, which makes the Mockingbird well-suited for rock and metal styles. The 24 jumbo frets were well rounded, particularly for an import guitar, but the edges could be a touch cleaner. The spalted maple finish is exceptionally classy and definitely helps set the instrument apart from the Henry Ford black that usually characterizes most guitars in this genre.
The Rockfield pickups are a nice addition, with smooth, creamy sounds, though players wanting high gain pickups may still feel the need to swap the stock Rockfields with Duncan or Dimarzio replacements. If you dig more classic rock or metal tones, though, the Rockfields are more than adequate.
Final Thoughts
Overall, the B. C. Rich Exotic Classic Mockingbird is a first-rate hard rock/metal electric guitar with killer tones, ease of play, and beautiful looks, especially given its relatively low price. If you're a budding metalhead or an experienced shredder, the Exotic Classic Mockingbird is sure to satisfy!
Name of Gear: B. C. Rich Exotic Classic Mockingbird
List Price: $1,075.00
Manufacturer Info: B. C. Rich Guitars; bcrich.com
Pros: Excellent playability; beautiful finish; good rock/metal sounds
Cons: Fret edges need a little work