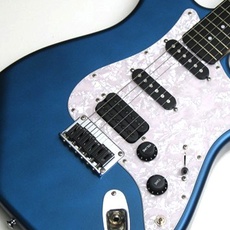 The Carvin Bolt-T is a world-class instrument at a pawn shop cost, offering world-class playability, looks, and tones.
For some time, Carvin guitars were sort of an "inside" secret amongst guitar players. Because of their direct only sales, you either had to know someone who owned a Carvin or be lucky enough to find a used one locally, which was rare. In recent years, Carvin has branched out from the "shredder" market they were known for in the 1980's, offering a wide variety of instruments at a reasonable cost. The Carvin Bolt is their low cost Strat-style guitar, but don't confuse the Bolt's low price with low quality. Read on and see why the Bolt is one of the best kept secrets in the guitar industry.
Specifications
Like all of Carvin's guitars, the Bolt comes with a variety of options regarding color, wood, hardware, and electronics. Our review model had an alder body with a flamed maple top, and a crimson red finish. A black pickguard was custom ordered as was a humbucker in the bridge. We stuck with single coils in the middle and neck position just so we could cop some convincing Strat tones. We also opted for the Wilkinson tremolo system, an ebony fingerboard, and 22 medium-jumbo stainless steel necks.
The Bolt-T has a master volume and tone pot with a standard five-way switch. The guitar also came with a mini-toggle that lets you add the bridge pickup in positions four and five. We also have a mini-toggle that taps the bridge humbucker.
Performance
Carvin necks are some of the best in the business, and the Bolt-T is no exception. The guitar's 25.5″ scale and 15″ radius felt extremely comfortable, and the necks tung oil finish was very smooth and added to the playability. Like all Carvin guitars we've ever played, the Bolt-T was smooth, fast, and silky.
Try as we could, we just couldn't get the Wilkinson bridge to go out of tune, and that was with some serious whammy-bar action. Of course, we also opted for the locking Sperzel tuners, so those coupled with the Graphtech nut went a long way towards keeping the Carvin Bolt-T in perfect tune.
The pickups allowed for an amazing amount of tonal versatility. The humbucker and single coil combination allow you to cover just about any sonic territory you wish.
Final Thoughts
Perhaps the most compelling feature of the Carvin Bolt-T is the price. We had numerous quality upgrades and options, and the guitar still cost us less than $1,000 including shipping and the hardshell case. While we still love our Fender Strats, it's hard to justify the cost of a new Fender when you can get a new or used Carvin for much less. Used Carvins also represent an incredible value, so hopefully you can find one below that will satisfy your gear longings. All in all, the Carvin Bolt-T is a world-class instrument at a pawn shop cost, offering world-class playability, looks, and tones.
Name of Gear: Carvin Bolt-T
List Price: $1,699.00
Manufacturer Info: Carvin Music; carvin.com
Pros: Amazing number of options available; fast neck; versatile tones; great value
Cons: None
Find your Carvin Bolt Guitar for sale on eBay today!