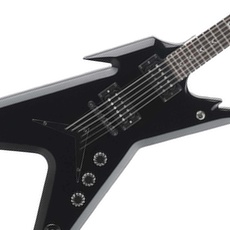 The Dean Razorback DB is a pretty serious metal machine and highly recommended for metal and shred guitarists on a budget.
Before his untimely death, Pantera guitarist and metal legend Dimebag Darrell developed a close working relationship with Dean guitars, helping invigorate the once-struggling guitar maker. Designed by Dimebag himself, the Razorback series sports a deadly-looking jagged design perfect for metal player. The Razorback guitars come in a variety of price-points depending on their construction and feature-set. The Razorback DB is a more budget-conscious model, but that doesn't mean it's cheap. This import model is a killer guitar at a very affordable price. Let's look at the Razorback DB in more detail.
Specifications
We reviewed the Classic Black model, but it's also available in Metallic White. It features a mahogany body and neck with a rosewood fretboard with Pearl razor inlay at the 12th fret. Dean-designed humbuckers, Grover tuners, and a tune-o-matic style bridge round out the feature set.
Performance
First things first, how does it play? Like many guitars in this price range, the Razorback DB needed a few tweaks before it would be in top shape. We adjusted the neck and the bridge to our liking, and have to say that once we got it set up, the Razorback DB produced some serious shredding. The action and playability were exceptional overall, especially for the price range.
The Dean-designed humbuckers produced the kinds of tones we expected on a guitar such as this. The lows and highs were pronounced and great for metal or shred guitar, but not terribly versatile. That's not really a criticism because one look at this guitar, and you know it's not mean to play "How High the Moon." It's a one-trick pony, but that's to be expected.
Final Thoughts
If we have any complaints, it's that the included case doesn't look like it would stand up to heavy usage. The guitar is also pretty dang big, so it's not a guitar you're going to play around the house casually. However, for the price, it's a pretty serious metal machine and highly recommended for metal and shred guitarists on a budget.
Name of Gear: Dean Razorback DB
List Price: $705.00
Manufacturer Info: Dean Guitars; deanguitars.com
Pros: Solid metal & hard rock sounds; great playability; good deal
Cons: Flimsy case
Find your Dean Razorback DB for sale on eBay today!