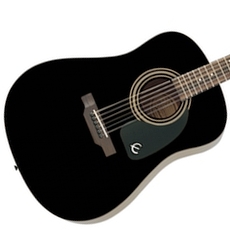 It's hard to believe you can get the Epiphone DR-100 for less than a hundred bucks, but it's true. Given its low price, the Epiphone DR-100 is a highly recommended starter or secondary instrument.
Few guitar companies have mastered the art of building quality acoustic guitars as much as Epiphone. This shouldn't be surprising, given the rich history of Epiphone, one of the oldest production music companies in existence. Once rivals with Gibson, Epiphone was eventually purchased by Gibson and now the Epiphone brand is synonymous with quality, inexpensive guitars. The DR-100 continues that tradition, being the best-selling acoustic in the Epiphone line. With a street price of less than $100, can the DR-100 really be that good? The answer might surprise you.
Specifications
Let's talk about the construction details first. It features a laminated spruce top and laminated mahogany back, neck, and sides. A rosewood fretboard is standard on the guitars 25.5″ scale length with a 1.68″ nut width. Chrome hardware is included, and the available finishes included Ebony, Natural, and Vintage Sunburst. I opted for the Natural finish.
Performance
So, what's the verdict? No suspense needed. It's a good guitar. Not a great guitar, but a good guitar. It has what it needs in the right places, though. When I review a budget guitar, the most important criterion I use for evaluation is its playability. Why? Simple. Most budget guitars are purchase by beginners or for beginners. If starting players encounter a guitar with high action, there's a good chance they'll get discouraged and give up. So, playability with notes that don't "fret out" is a crucial aspect of evaluation.
And the Epiphone DR-100 delivers in the department very well. The action was low but the notes still sounded good and clear. Both chords and single lines were easy to execute. The guitar has a good, full sound, but as you'd expect it lacks the richness or fullness of a quality solidbody guitar. The sounds aren't exactly going to inspire you to write the next "Blackbird," but it's a good, playable instrument for less than a hundred bucks. It's hard to complain.
The natural finish was within expectations for a guitar in this price range. Uninspiring, but certainly fine for a budget guitar. I couldn't find any significant finish flaws, though there were some noticeable glue specs inside the guitar. But hey! This is a $100 Epiphone, not a $3,000 Taylor. You can afford to be a little forgiving.
Final Thoughts
I've been playing guitar for over 20 years, and there's no way you could have found such a quality instrument for so little money when I started out unless you just lucked out at a pawn shop. It's hard to believe you can get the Epiphone DR-100 for less than a hundred bucks, but it's true. It's a highly recommended starter or secondary instrument.
Name of Gear: Epiphone DR-100
List Price: $182.00
Manufacturer Info: The Epiphone Company; epiphone.com
Pros: Excellent value; good action
Cons: Sounds a bit flat
Find your Epiphone DR-100 for sale on eBay today!