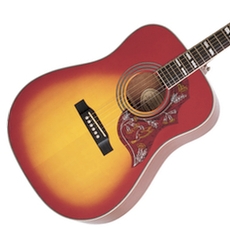 The Epiphone Hummingbird is an excellent choice if you want a versatile, low-cost instrument that has a cool vintage vibe.
The Gibson Hummingbird Acoustic is a well-recognized example of acoustic guitar construction at its finest. From the sunburst finish to the exquisitely designed pickguard, the Hummingbird acoustic is a beloved instrument and one of Gibson's most treasured acoustic models. Unfortunately, this treasure comes at a cost, with a new Gibson Hummingbird running around $2,000 for a new model. Fortunately, Epiphone, a Gibson-owned subsidiary, produces a low cost version of the Hummingbird that offers just about everything you've grown to love about the model without the high price tag. Does it live up to the high standards of the original Hummingbird? We'll see.
Specifications
The Epiphone Humingbird is a square-shoulder dreadnought with a solid spruce top, mahogany back and neck with a rosewood fretboard. It's a 25 1/2″ scale instrument with a 1 6/8″ nut width. Chrome hardware is standard equipment, as is body and neck binding. Of course, the guitar includes the instantly recognizable hummingbird pickguard.
Performance
Upon opening the Hummingbird, I was basically pleased with the factory set up. The intonation was good and the guitar played and sounded evenly up the neck. I will say that the action was just a touch higher than what I generally like. I'm not real adept at adjusting acoustic guitars aside from the truss rod, so I spent $100 with my local repairman to have him set the guitar up properly. While in his care, I opted to have a bone nut and saddle installed as well as some quality bridge pins.
The results?
Simply amazing! With only a $100 setup, this good guitar was transformed into a quality instrument (still for less than $500, mind you). The action and playability rivaled that of much more expensive instruments, and the tone as well. I think it's better suited for fingerpicking and folk styles more than bluegrass flatpicking, but it's versatile enough to work in pretty much any genre you need. The only downside is that you will have to spring for a gigbag or case if you want one, since neither is included.
Final Thoughts
The Epiphone Hummingbird is an excellent choice if you want a versatile, low-cost instrument that has a cool vintage vibe. It's hard to beat the Epiphone Hummingbird given the relatively low price. Granted, it took a little bit of extra work to get the Hummingbird to the "next level." Also, a case or gigbag would have been nice, but it's still a great deal.
Name of Gear: Epiphone Hummingbird
List Price: $499.00
Manufacturer Info: The Epiphone Company; epiphone.com
Pros: Excellent deal; beautiful, vintage look; excellent guitar once setup properly
Cons: Weak factory setup; no case
Find your Epiphone Hummingbird for sale on eBay today!