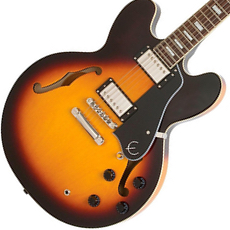 The Epiphone Limited Edition ES-335 Pro is a highly celebrated model that reflects the increasingly high standards that this Gibson-owned company now reflects. Along with the SG and, of course, Les Paul, the ES-335 is an iconic Gibson model, favorited by blues, rock, and jazz artists since its introduction in 1958. Players from Chuck Berry to Eric Clapton have made the ES-335 one of Gibson's most venerated models, and this offering from Epiphone, the Limited Edition ES-335 Pro, carries on that tradition nicely.
Specifications
The Epiphone Limited Edition ES-335 Pro features a double-cutaway laminated body with a maple top and body. The mahogany neck sports a rosewood fingerboard with a 12 inch radius, 22 medium jumbo frets, and small block inlays – a nice "Larry Carlton" vibe. Two Alnico Classic Pro pickups are standard as are the traditional ES-335 bridge/stop tailpiece combo and separate volume/tone controls. A push/pull coil-tap option is also standard. Nickel Wilkinson tuners are also included. The case is sold separately.
Performance
I've had a chance to review and play several Epiphone instruments over the years, and I have to say – this is easily one of the best offerings from Epiphone I've had the pleasure to play. It's everything that you want an ES-335 to be, and the "Pro" designation is apt in this case. I'd almost recommend that Epiphone raise the price $500 so people who wouldn't give the guitar a second look would consider doing so.
The weight (around 7.5 lbs), fit, and finish were all impeccable. I lowered the action just a bit upon receipt of the guitar, but that's a personal preferences, not a deficiency of the guitar in any way. Surprisingly, the factory setup was pretty good overall, including neck adjustment and intonation (surprising all the more since it doesn't come standard with a hardshell case).
I played the guitar in a variety of contexts, and as you'd expect, it's a nice rock and blues guitar, but this is in every way a "real" ES-335, so jazz and fusion licks sound great as well. The push-pull pots add some extra added tonal versatility.
If the Epiphone displays any noticeable cost-cutting measures compared to its Gibson brethren, it's in the hardware. Any USA-made ES-335 will have upgraded pickups, tuners, and other hardware. If you do find the Epiphone hardware deficient, though, it'll be relatively inexpensive to upgrade them for still a much less expensive instrument.
Final Thoughts
It's easy to bash Epiphone as the red-headed stepchild of Gibson, but with guitars like the Limited Edition ES-335 Pro available, that reputation won't last much longer. This is a budget-priced guitar that lives up to the "Pro" designation.
Name of Gear: Epiphone Limited Edition ES-335 PRO
List Price: $665.00
Manufacturer Info: Epiphone; epiphone.com
Pros: Excellent bargain; wide range of sounds; solid playability
Cons: Stock tuners could use an upgrade; no case
Find your Epiphone Limited Edition ES-335 PRO for sale on eBay today