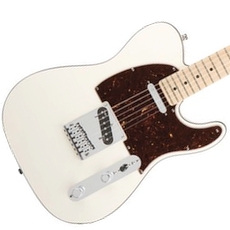 The Fender American Deluxe Telecaster is a guitar that will last a lifetime and cover duties from studio to stage with no difficulties.
Along with Gibson Les Paul and the Fender Stratocaster, the Fender Telecaster has rightly earned an iconic status in musical instrument history. Originally named "The Broadcaster," the Telecaster has the honor of being the oldest production line guitar. Thought it is usually associated with country guitar, the time-honored Tele has found its way into the hands of jazz, blues, and rock players at one time or another. The new American Deluxe Telecaster extends the tradition of the instrument by fusing the best of new and old. The result is a Telecaster that is as versatile as it is recognizable.
Specifications
Let's focus first on the changes from previous models, since the American Deluxe has always been a step above the American Standard series. New is a compound radius fretboard that moves from 9.5" at the nut, 12" at the 12th fret, and 14" at the 15th fret. The compound radius is designed to enhance playability at various stages of the fretboard, coupled with the C-shaped neck. Also new are Fender's noiseless N3 pickups, a stacked coil design intended to eliminate traditional single coil noise.
Other American Deluxe appointments are included such as locking tuners, Schaller straplocks, S-1 switching system, ash body (alder is also available) and maple fretboard with 22 jumbo frets. An updated Fender/SKB case with ATA-approved locks is also included.
Performance
As you'd expect from a guitar in this price range, the construction, fit, and finish are immaculate. Try as I could, I found no discernible issues with the fretwork or finish. The neck, like its Stratocaster sibling, is as smooth as any neck I've ever played. Telecasters aren't exactly known for low, smooth action, but this one definitely will be. The action was low and playable without any excessive buzzing or fretting out. Very, very nice!
The sounds are pretty happening as well. Noiseless pickups are usually hit or miss, but Fender has scored a big hit with the N3 Noiseless pickups. All the sounds you associate with the Fender Telecaster can be found within, from country twang to smooth rhythm. The S-1 system adds increased versatility. This really is a guitar that could cover just about any situation, from rock and blues to jazz and country. Its versatility might even surpass that of the heralded Stratocaster.
Final Thoughts
There's really nothing to complain about. While the price of admission is relatively high for a non-custom instrument, you do end up with a guitar that will last a lifetime and cover duties from studio to stage with no difficulties. Like the American Deluxe Stratocaster, Fender has another winner on its hands.
Name of Gear: Fender American Deluxe Telecaster
List Price: $2,199.99
Manufacturer Info: Fender Musical Instruments; fender.com
Pros: Excellent array of sounds; great playability
Cons: None
Find your Fender American Deluxe Telecaster for sale on eBay today!