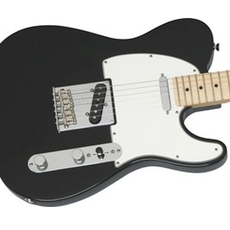 The American Standard Telecaster is a guitar that is well-suited for a variety of musical contexts, given its wide array of sounds and playability.
Few guitars occupy such a celebrated place in guitar history as does the Fender Telecaster, the company's oldest electric guitar design, even preceding the heralded Fender Stratocaster. Heralded for its versatility, the Fender Telecaster has been used by artists in Jazz, Blues, Rock, and, of course, Country. Its beauty lies in its simplicity. As Tele-master Brad Paisley has observed, a Telecaster is ultimately a slab of wood with a baseball bat screwed into it, but what a slab of wood!
Fender has recently redesigned the American Standard series of instruments, including the beloved Telecaster. It's indeed dangerous to mess with a legend, so we're left wondering if the changes are worth it. Let's take a look at the construction details first to see.
Specifications
The revised Fender American Telecaster features a solid alder body with urethane finish, a C-shaped maple neck with satin back and glossed front. The neck comes with either maple and rosewood fretboards, each sporting 22 medium-jumbo frets. The electronics consist of two Alnico V single-coil pickups with Delta-tone "no-load" circuit. A new American Standard Tele Bridge Plate is standard, including steel saddles and brass plate, which improves resonance. Staggered machine heads are standard equipment.
Performance
The first thing we noticed when we cranked up the American Standard Telecaster is just how smooth the neck and fretwork are. The medium jumbo frets are expertly polished and rounded, contributing to very smooth bends and playable runs up and down the neck. The glossy neck really is a dream to play and is quite an improvement over the previous model.
The stock pickups also allow a great variety of versatility. We especially like the neck pickup for jazz and rhythm work. Of course, the bite and "twang" just drip from the bridge pickup. The volume and tone controls are smooth and responsive, just as you'd expect.
Fender claims that the revised bridge plate improves sustain, and we'd have to agree with their assessment. The Telecaster has a resonance and sustain that makes it suitable for a wide variety of musical genres, a versatility we've come to expect with Telecasters.
Also welcome in the new American series is a bulletproof SKB case, which helps protect your investment even further.
Final Thoughts The verdict is clear. The American Standard Telecaster is a guitar that is well-suited for a variety of musical contexts, given its wide array of sounds and playability. It's hard to improve on a classic, but kudos to Fender for having done just that.
Name of Gear: Fender American Standard Telecaster
List Price: $1,299.99
Manufacturer Info: Fender Musical Instruments; fender.com
Pros: Great value; excellent fretwork; wonderful playability; versatile
Cons: None
Find your Fender American Standard Telecaster for sale on eBay.