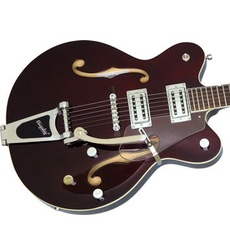 With a street price of around $700, the Gretsch G5122 is a great deal on guitar with classic vintage-vibe.
The Gretsch G5122 is yet another low-cost offering from Gretsch who in recent years have really stepped up their game in offering quality instruments thanks to their tightly-controlled Korean manufacturing. If you're interested in a guitar with serious "twang-factor" and offers something a little different than the typical Les Paul and Stratocaster inspired offerings, the Gretsch G5122 might be up your alley.
Specifications
The G5122 is a hollowbody guitar that features a laminated maple body and top. The neck is also made of laminated maple and features a rosewood fingerboard with 22 medium jumbo frets. The guitar is a 24.56″ scale with a 1-11/16″ (43mm) nut width. Gretsch outfits the G5122 with a pair of chrome-covered Dual-Coil humbuckers. The hardware features vintage style machine heads, G-Arrow Knobs, Gretsch knurled strap knobs, and chrome hardware. The bridge is a Gretsch Adjusto-Matic on a rosewood base and a Bigsby B60 vibrato tailpiece.
Performance
Our test amplifiers were a Fender Twin Reverb reissue and a Dr. Z MAZ-18 NR 1 x 12″ combo. From the moment we plugged in and strummed our first chord, we were very pleased with the large, vintage sound of the G5122. We pumped out some Brian Setzer, Beatles, and classic rock licks with ease. Often, people will look to replace pickups on lower-cost guitars, but we see no need to do with the G5122.
Through our test amplifiers, the tones were clear and shimmering on clean settings and provided just the right amount of "bite" on overdriven tones. Shredders should probably stay away from the G5122, but all other players could find something useful with this offering from Gretsch, and that's saying something. The guitar could easily be used for everything from a jazz trio to a blues jam session.
We did have some minor complaints. The tuners felt a little cheap and might be need upgrades in the future, but they held their tuning well, even while using the vintage-style Bigsby vibrato. The floating bridge could take some getting used to, but it intonated well and definitely adds to the vintage feel.
We have no complaints with the G5122's fit, finish, and action. The Walnut Stain urethane finish is beautiful and gives the guitar a classy vibe that few others can match in this price range. Chording and lead work alike flowed with ease once we adjusted the bridge to our liking (and adjusted the truss rod properly). The neck felt comfortable with very good action.
Final Thoughts
Couple the ease of play with the guitar's lightweight design, and you've got an instrument that you could keep strapped on all night comfortably. With a street price of around $700, the Gretsch G5122 is a great deal on guitar with classic vintage-vibe.
Name of Gear: Gretsch G5122
List Price: $1,000.00
Manufacturer Info: Gretsch Musical Instruments; gretsch.com
Pros: Cool vintage vibe; clean, loud sound; good value
Cons: Cheap tuners
Find your Gretsch G5122 for sale on eBay today!