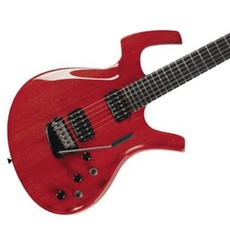 With its futuristic design, versatile tremolo system, lightweight, and array of sounds. the Parker Fly Mojo is truly a guitar for the 21st century.
When Ken Parker unveiled the Parker Fly guitar in the early 1990's, his creation was met with both wonder and skepticism. For all their differences, guitar players are a notoriously conservative lot when it comes to guitar gear. If a design deviates too much from the time-honored designs of Gibson and Fender, it has an uphill battle. Fortunately, the word spread quickly, and Ken Parker's Fly guitar became a success for numerous reasons, including the guitar's incredible playability, variety of electric and acoustic sounds, and its lightweight, futuristic design.
Flash forward several years, and Parker Guitars is still going strong. They are currently owned by US Music Corporation, which also owns such noted gear makers as Washburn and Randall. Parker currently offers several different models that are spinoffs of its original Fly model, and none has been more well-received than the Parker Fly Mojo, our current review model.
Specifications
The Parker Fly Mojo features a solid mahogany body finished with polyurethane, a mahogany neck reinforced with solid one-piece carbon-glass-epoxy. The instrument is a 25-1/2" scale with 1.68" nut width and sports 24 stainless steel frets on its composite fretboard. Semour Duncan Jazz and JB pickups are standard, as is a piezo bridge with an active custom Fishman preamp. The electric and acoustic pickups can be blended as the user desires. The pickups are controlled by a 3-way switching system that also offers push/pull coil-splitting. The custom Parker vibrato bridge allows fixed, bend down only, and floating modes. Sperzel locking tuners are standard, as is black hardware. A quality Parker hardshell case is included.
Performance
With its mahogany body and neck, the Fly Mojo is made for a warm and musical tone. For years, Parker Fly enthusiasts have clamored for Seymour Duncan pickups as an option, and the Fly Mojo delivers. One of Duncan's most popular combinations is the much-beloved JB in the bridge and Jazz in the neck, which the Fly Mojo adopts. The result is an amazingly versatile guitar since you have these pickup options plus the coil tap plus the heralded Parker acoustic tones as well. As always, you can mix these pickup choices to your liking. The result is breathtaking.
Everything that we've grown to love about the Parker Fly is here. The bridge is one of the best designs we've ever seen and is a continued testimony to Ken Parker's genius. One can have a fixed bridge, a bend-down only bridge, or a floating bridge, depending on your preference. Coupled with the locking Sperzel tuners, the Parker Fly Mojo vibrato system is one of the most stable systems we've ever seen.
The carbon-glass fretboard, including the 24 stainless steel frets, is one of the fastest you'll ever play. Notes bend like silk, chords fret effortlessly, and arpeggios blaze across the neck with ease. Clearly, the Fly Mojo is a serious player's guitar.
If you've ever played a two-hour set with a Les Paul strapped on, you'll appreciate the Fly Mojo's weight, which is only around five pounds, less than half of some Les Pauls! Despite its light weight, the Fly Mojo has ringing sustain and packs quite a punch. The included hardshell case is the icing on the proverbial cake.
Final Thoughts
With its futuristic design, versatile tremolo system, lightweight, and array of sounds. the Parker Fly Mojo is truly a guitar for the 21st century. Perhaps one day Parker's name will be spoken in the same breath as such design luminaries as Leo Fender and Les Paul. Reinventing the wheel ain't an easy feat, but Ken Parker has done just that.
Name of Gear: Parker Fly Mojo
List Price: $4,399.00
Manufacturer Info: US Music Corp; parkerguitars.com
Pros: Amazing versatility; lightweight; broad array of electric and acoustic tones
Cons: Expensive; only one year warranty
Find your Parker Fly Mojo for sale on eBay today!