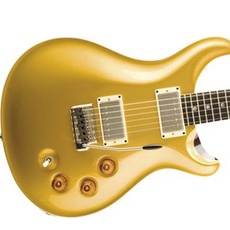 With its classy look, quality build, and variety of sounds, the PRS DGT is a world-class instrument.
The relationship between guitar maestro David Grissom (Dixie Chicks, John Mellencamp) and Paul Reed Smith goes back over 20 years, ever since Grissom got his goldtop PRS Standard. Though Grissom has played countless gigs with his PRS Standard, he and Smith had long talked about personalizing his guitar. Eventually, Grissom switched to a PRS McCarty tremolo equipped model, which got him one step closer to his ideal guitar. That dream has been realized in the PRS DGT model.
Specifications
The DGT features a thick mahogany body wood, carved maple top, mahogany neck, and rosewood fingerboard. Moon inlays or bird inlays are available. The fingerboard sports a 10" radius and 22 large frets with a 1-11/16" nut width and a 25" scale length. The DGT features custom-made DGT Treble and Bass Humbuckers, each with separate volume controls and a master tone control with push-pull pot. A three way selector switch is standard, as are PRS tremolo and locking tuners.
Performance
The moment you play a PRS DGT, you'll notice the substantive and tone-inducing neck-carve. It includes taller frets than a standard McCarty and the neck, while still meaty, is slightly smaller than the standard wide-fat PRS neck carve.
The jumbo frets just feel right and, as you would expect from a PRS, are perfectly polished and facilitate fast play and smooth bends. Grissom opted for .011 strings for a chunkier sound, but the guitar is so well-made that you don't have to fight to play it. It simply makes the sound solid and powerful. Playing through both a Marshall JCM800 Half-Stack and Divided by 13 combo amp yielded warm, articulate tones in both the bridge and neck pickups.
One seemingly minor change from a stock McCarty is that the DGT has a separate volume knob for each pickup, a welcome addition in my view. The variety of different tones available from merely varying the volume knobs on a two-pickup guitar should not be underestimated and was something that Grissom insisted his model incorporate. This addition coupled with the push-pull coil taps makes this one very versatile instrument.
Final Thoughts
Other minor details make the DGT a first-class instrument, including low mass locking tuners, a thin nitro-cellulose topcoat, optional bird inlays (which we opted for), and a quality PRS hardshell case. With its classy look, quality build, and variety of sounds, the PRS DGT is a world-class instrument, one that will only increase in value in the years to come.
Name of Gear: PRS David Grissom Model
List Price: $4,537.00
Manufacturer Info: Paul Reed Smith Guitars; prsguitars.com
Pros: Excellent build quality; rich variety of sounds; quality finish
Cons: None
Find your PRS DGT for sale on eBay today!