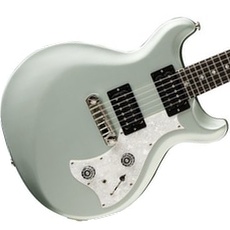 Its thoughtful approach to design, comfort, and playability make the PRS Mira a wonderful choice for those looking for something a little different.
Some guitar companies seem to introduce new, radical designs every year in the hopes of riding new trends or latching onto the "next big thing." Not Paul Reed Smith. This is a company that only introduces new models when it actually has something exciting or unique to offer. Their new Mira definitely falls under this category.
Specifications
The PRS Mira features a solid mahogany body and 24-fret neck with a rosewood fingerboard. The PRS wide-thin neck carve is standard on the instrument's 25" scale. Either moon or bird inlays are options. PRS Phase II low-mass locking tuners maintain accurate tuning. The Mira's pickups are custom Mira Treble and Bass humbuckers with coil tap, controlled by a single volume and tone as well as a 3-way blade pickup selector. A quality PRS hardshell case is standard.
Performance
Ironically, though, the new feel of the Mira lies in its vintage styling and feel. It has a flat-top mahogany body with cutaways that remind one of a classic 1960 Gibson Les Paul Special. In addition to the new exposed-coil humbuckers, the Mira sports a new control layout for PRS, consisting of Volume and Tone controls coupled with a 3-way pickup selector switch and a mini-toggle for coil splitting. Even the translucent control knobs have a different look that signals something new from PRS.
The Mira's mahogany set neck is reminiscent of a McCarty with its chunky heel, though it does adopt the wide/thin neck profile. Like all PRS guitars, the fretwork is impeccable and facilitates fast run and smooth bends. The tuners are the PRS Phase II low-mass locking tuners, which go a long way towards keeping the guitar in perfect tune. The aluminum PRS stoptail compensated bridge provides spot-on intonation.
Aesthetically, the Mira has a classy vintage-style look that we really like. We opted for the Wild Mint finish with the optional bird inlays, and we were amazed at how much we loved the Mira's beautiful simplicity, though details like a matching pickguard and truss rod cover show how much thought went into the Mira's details. The fact that it only weighed about 6.5 lbs didn't hurt either. This is a guitar you could gig with all night.
The Mira's pickups are specially made for this model, and they complement the guitar's aesthetics wonderfully. The pickups are definitely wound a little hot, so they offer a full range of shimmering highs, full bottom, and clear mids. Some Strat-like tones are there when you engage the coil-taps. We played through a variety of Fender, Marshall, and Mesa Boogie amps and simply couldn't find a sound we didn't like. Though it doesn't look like a shredder-axe, the Mira can rip it with the best of them.
Final Thoughts
PRS has yet to make a guitar we didn't like, and the Mira is no exception. Its thoughtful approach to design, comfort, and playability make the PRS Mira a wonderful choice for those looking for something a little different. Its price tag is also far less than most USA-made PRS guitars, which makes it even more attractive.
Name of Gear: PRS Mira
List Price: $2,849.00
Manufacturer Info: Paul Reed Smith Guitars; prsguitars.com
Pros: Great value; highly playable neck; impeccable fretwork; versatile
Cons: None
Find your PRS Mira for sale on eBay today!